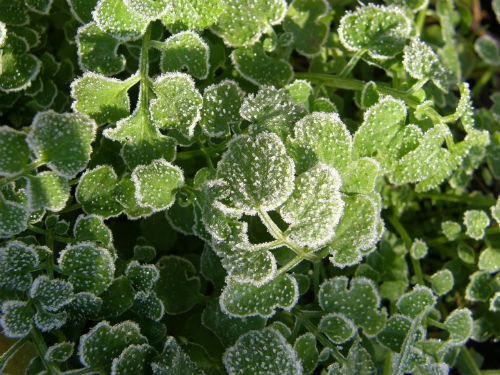 I feel pretty and witty and bright!
Boy, does frost change everything. Even weeds look spiffing.
That was yesterday, today is windy with fitful rain, all is green again.
More tender plants have been battered into final submission, the newer growth on the myrtle has been taken but surprisingly Pelargonium sidoides is still with us, the rest of the pelargoniums have succumbed.
It is starting to brighten, pockets of blue amongst the grey can be seen and now shafts of sun are illuminating the garden.
Yesterday the frost stayed in the footprints of my random trails round the overgrown lawn, and as darkness fell a big gold moon heaved itself into the sky and a fire roared, its orange flames providing warmth and a focus in the darkening night.
In the frosty stillness of the day the loud clattering of individual leaves ricocheting off hazel branches as they fell startled me. Today the wind is making a restless soundscape and challenging the last few leaves still hanging on, mainly apple, oak and some hazels.
The Pennisetum and some of the other grasses are still holding their heads others are looking somewhat battered, although planting bulbs a few weeks ago I found my jumper had gathered quite a few embedded pennisetum seeds which had to be teased from the wool.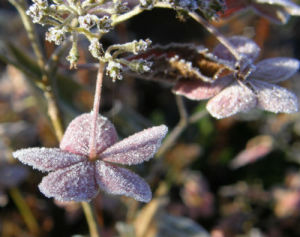 The last sale bulbs are finding homes but as ever I'm digging up others in my quest to find space.
I finally shelled out for the white Allium Mount Everest mainly because
Avon Bulbs  had reduced them in their sale. Crocus Ladykiller has been added to the white border and daffodil W P Milner has taken up residence with Muscari Peppermint. Snowdrops and daffodils are already pushing through in the spinney, copse, brake.