It's definitely that time of year now, autumn is decidedly upon us. This is a bit of insto gardening, these bulbs were only recently bought from Broadleigh Bulbs but within a few weeks we have instant gratification!
The needed rain has yet to really penetrate the soil in some parts of the garden and today after some horrible buffeting SW winds it is a relatively docile day. I've been bargain hunting, the nursery trade reckons no-one plants in the autumn any more – I certainly do.
The plants started with the last day of Cally Gardens 2014 at the end of September. We pretty much had the walled gardens with its apothecary style beds and old greenhouses to ourselves. The sound of birdsong echoed around the valley and the candyfloss scent of Cercidiphyllum wafted in the air (a theme returned to at both the Alnwick gardens and Scampston Hall an early Oudolfian design in N Yorkshire which had a lovely grove of them, the heart shaped leaves all autumnal pink and yellow).
Alnwick Gardens turned up trumps with 50% off many unusual plants, OK, so often it's dead stick in a pot such as the Kirengeshoma palmata and Uvularia but come spring we should be in leafy business! Also, unlike it seems many National Trust properties, Alnwick grow and sell a lot of their own plants. Often at NT properties you see many unusual plants but rarely are they available to buy. And finally this week the Woottens of Wenhaston autumn sale is on and I bagged an unexpectedly large Cestrum Cretan Purple and a couple of variations of the 'normal' male fern.
What's in flower today
It may or may not be Callistemon pityoides, I'm happy to stand corrected as the label has been mislaid. This plant was bought at Greenway Gardens before the National Trust took over so is many years old and has been much abused remaining in a small pot, this is the first time it's flowered in all these years.
The only other survivor from that nursery trip years ago is a Brunswick Fig from the walled gardens.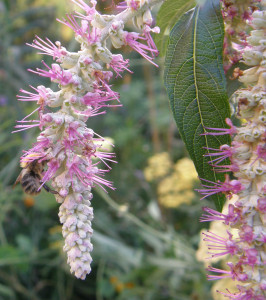 Rostrinucula dependens. I've had this shrub also for many years in a pot. I first saw it at Abbotsbury Gardens in Dorset which I see now has it back again in the Mediterranean planting. Originally I bought this plant from The Botanic Nursery in Wiltshire (although not currently listed on their website). It takes easily from cuttings which I have failed so far to take this year. It may not survive a harsh winter as it's now in the ground rather than in a pot so can't be hauled in to some protection.
Some people think it is a bit dowdy but in full cascading flower it has something about it.
Dichroa febrifuga. I have a number growing in neglected pots. It's easy from cuttings but more tender than hydrangeas. I keep it in shade. It isn't the fabulous blue because like hydrangeas the colour changes with the soil, to make it blue I need to put it in an ericaceous compost. Can't remember where the original parent plant came from.
 Salvia uliginosa. I've entertained this large salvia a number of times in different gardens over the years. This is probably the best show I've had. This salvia is a bit of a thug as it runs, and now late in the season is flopping. The lovely clear blue flowers appear over many months and like Verbena bonariensis the flowers open on the same flowerheads which become heavier with the spent buds. Some sources say it needs moisture, this bed is not particularly moist, the clay dries hard in summer and is in full sun.  As an aside, in one flower bed only all the tops of the verbena were taken off leaving only stalks, bizarre.
Recurring themes
It's odd how some themes recur. In May out kayaking on the River Dart in Devon a mole floated towards me not waving but drowned. Last Saturday a mole was found in our tiny stream also not waving, two signal crayfish were showing some interest.
On a recent trip to Northumberland something owl themed popped up each day, on the first day I dreamt about a Little Owl, the next day I saw a live Little Owl at Lindisfarne, the owl bedroom at Cragside and so on.
And on a wild SatNav detour down narrowing country lanes in N Yorkshire we dropped down by a house and mill, "I know this place!" the other half exclaimed "It was on Restoration Home". And so it was, but it turns out the dream has gone, the couple have split up and the husband has lost the mill to his ex wife.
And as a result of the Northumberland trip I also have a lovely but invasive ear worm, Fareweell Regality…
"And there's naught that I can bid you, But that peace and love gan with you, Never mind wherever call the fates, Away from Hexhamshire" – thanks Unthanks!
It's also good to see the little Goldcrest is still around although it did fly into the window this morning, minor beak dentage only – it flew off again slightly dazed.
Onwards! bargain plants to be found homes for and other plants to go on the move to make room!