It is a tradition for Cottage Garden Society members, and I believe the Wildflower Society to see what's in flower at this time of year in gardens and in the countryside respectively. I thought I would have a garden rummage too, as the papers are saying how ahead everything is, the world is topsy turvy, gorn mad etc.
Well the haul was pathetic in Berkshire:
Osteospermum Blackthorn Seedling
Erysimum Bowles' Mauve
Rosmarinus prostratus Capri
Jasminum nudiflorum
Sarcococca confusa (just)
Rosa Rhapsody in Blue (buds)
Bergenia
Hebe Midsummer Beauty (bud)
Cyclamen coum
Primrose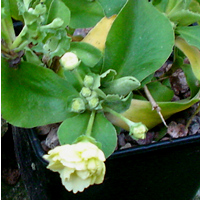 If I added the Bath garden which on balance is warmer, I could only muster:
Salvia x jamensis Hot Lips
Salvia discolor
Lonicera  japonica Halliana
Primula auricula yellow seedling
Primula auricula Remus
Clematis cirrhosa var. balearica
The Sarcococca hookeriana even let me down, still tightly budded. The Clematis is a late winter flowerer anyway so that's not unusual.
Had I done the count in my mother's garden the haul would have been somewhat longer, the first aconites were flowering on Christmas Day, Chimonanthus in full flower and a few blooms on the Lonicera x purpusii, Jasminum mesnyi and Rosa Madame Alfred Carriere, to name a few. There are daffodils in full flower in Yeovil, but this particular patch is always incredibly early.